Call a Trade Specialised Kitchen Fittings Services
If you're looking to purchase a new kitchen or have already existing kitchen and need someone to install it for you, we're pleased to offer a fitting service. We deal with the full installation process from start to finish, which includes replacing the existing units with the new ones, fitting sinks and kitchen cupboards, wiring up appliances, and disposing of all debris so it doesn't clutter up your home. The entire installation process is dealt by us from start to finish with minimal disruption to you and your family.
Fitting a new kitchen is a tricky job! There's a lot that can go wrong, especially when it comes to wiring built-in electrical appliances and connecting up new sinks. Don't risk doing it yourself – our team of fully qualified kitchen fitters have years of experience that you can trust. We take care of the process from start to finish and source the specialist kitchen fitters you need, so you don't have to.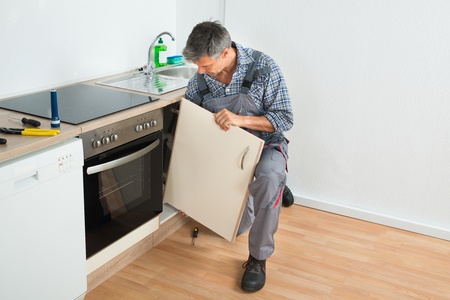 We know that the kitchen is the heart of the home, which is why we work as efficiently as possible to minimise the disruption to you and your family. Our kitchen fitting service is quick and we aim to complete all kitchen fittings within four to six weeks. For peace of mind, all of our work is guaranteed so if you have any problems, we're on hand to fix them straight away.
For all your kitchen fittings and installation pease contact us on 0203 488 1016 or complete our online booking system for a free quote. One of our team will be in touch with you as soon as possible.
Call a trade Specialised Kitchen Fittings Services includes;
24/7 Online Booking. Our 'Live' calendar means you can see availability and book Call a Trade 24 hours a day.
Quick Response Times. We can usually offer you Same-day or Next-day appointments.
Professional & Experienced. All our handymen come from multi-trade backgrounds, have decades of experience, communicate well and understand the importance of customer service.
Seven Day Service. We offer appointments from 08:00-21:00 Monday to Sunday at great value rates.
All our Work is Guaranteed & Insured
We cover the whole of London
Our Unbeatable prices*
| Types of Kitchen Fittings | Our price |
| --- | --- |
| Fitting/Repairing Locks, Hinges & Handles | Call for a quote |
| Fitting whole Kitchen Set | Call for a quote |
T&C and Minimum Charges apply. When we calculate the price, we take into consideration the time of the appointment. To get an estimate for your service, please call us on0203 488 1016 or complete our online booking form for a free quotel »