Call a Trade Specialised Tiling Service
Our company can offer you tilling service in London. Tiling your home, office or public building is really a challenge because it requires a long time for planning all the details about the type of tiles, design, colour, etc. Therefore it is better to rely on professionals who will manage the job in a wide network of locations in London. Modern techniques, work at short notice, tidy finish, first class service and competitive prices are guaranteed if you trust Tiling Services.
Our experienced and handy team is at your disposal, equipped with waterproofing compounds, glues, and tools need to do everything professionally. Our tiling services team in London is available seven days a week. What is more, it covers all aspects of tiling from small domestic jobs to colossal Projects.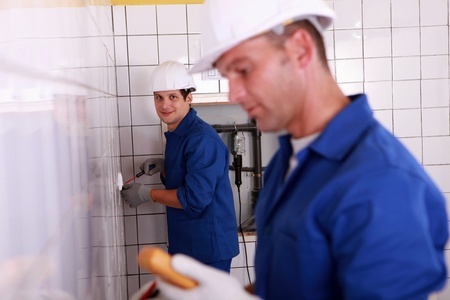 In addition to this the dedicated team is at hand to answer all your questions, to hear your ideas and to discuss with you the project, to survey the lot and to propose the best solution. The team of experts will plan everything with great care and devotion without extra costs.
for more information about our specialised tiling service call us today on 0203 488 1016 or complete our online booking form for a free quote
Our Unbeatable Prices*
| Tiling Service | Our Price |
| --- | --- |
| Bathroom Tiling | Call for a quote |
T&C and Minimum Charges apply. When we calculate the price, we take into consideration the area dimensions and the time of the appointment. To get an estimate for your service, please call us on 0203 488 1016 or complete our online booking form for a free quote