Call a Trade Specialised Kitchen Cleaning Services
Keeping your kitchen and its appliances clean is critical to ensuring your customers receive good food, prepared in a professional kitchen with high hygiene standards.
If you are a hotel, food serving pub or a company with a canteen you will be required by your buildings insurance company to have your kitchen duct extract system degreased and cleaned, and our expert teams can also deep clean your kitchen hardware to give you the complete deep cleaning package. Just call 0203 488 1016 or complete our quick online booking form for a quote. Keeping your appliances and kitchen clean has a number of benefits as well as it being essential to ensure in the event of a fire your insurance will not be invalid.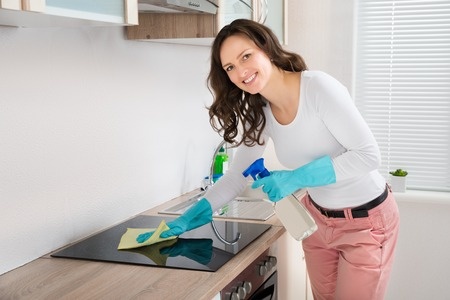 Do you also want to spoil your oven with a complete makeover? Do you want to skip the unpleasant elbow-greased experience of cleaning your oven all by yourself?Call a Trade can tick all the boxes for you and all you need to do is just pick up the phone and give us a call on 0203 488 1016 or fill our online booking form. What we believe in is that the kitchen needs to be kept clean and tidy at all times in order not to compromise on your family's health. The oven is one of the most neglected appliances primarily because it takes a lot of effort and hours of scrubbing in elbow grease to restore its former glory
Call a Trade professional oven cleaning serves guarantees full removal of dirt, grease, food deposits and carbon residue off the interior and exterior of your appliance. Our experienced oven cleaners will bring back the shine of your oven and leave you with a wide smile and great customer satisfaction. We also provide general kitchen cleaning for residential properties as well
Call a Trade Specialist Kitchen Cleaning Services
Dust and wipe all accessible surfaces
Clear any dishes left form breakfast or load dishwasher
Put away clean dishes
Clean the sink
Scrub the hob
Wipe the exterior of kitchen cupboards
Microwave interior and exterior cleaned
General kitchen tidy up
Vacuum and mop floors
Take out rubbish (including recycling)
Our team of professional kitchen cleaning technicians provide a nationwide complete top to bottom kitchen deep cleaning service. Our commercial kitchen cleaning provides a complete solution for annual kitchen deep cleans
All removable items are stripped, soaked in specialist decarbonising / degreasing solutions
Items are steam cleaned and fitted into place
Walls ceiling and floor are scrubbed and steam cleaned
Stainless steel is decarbonised and brought back to as close to new as possible
All items are replaced as found ensuring site staff can immediately use the freshly cleaned kitchen
The final step is to sanitise the entire kitchen
Some of the oven cleaning services we provide are listed below:
Full Single Oven Cleaning
Extractor and Hob Cleaning
Full Single Oven Cleaning
Double Oven Cleaning
Tree Racks Cleaning
Extractor and Hob Cleaning
Fryers, Grills, Oven Ranges, Steamers, Combination Ovens, Industrial Oven cleaning etc
All cooking equipment is fully dismantled and then treated in our solution dip tanks. This process removes carbon and grease deposits
The solid structure of the cooking equipment can then be fully deep cleaned by our fully trained cleaning operatives. This process will remove grease, carbon and limescale
The cooking equipment is then reassembled and then polished to a finish
Our Unbeatable Prices*
| Kitchen Cleaning Services | excluding extractor cleaning | including extractor cleaning |
| --- | --- | --- |
| General Kitchen Cleaning | from £12 per hour | from £25 per hour |
| Kitchen Deep Cleaning | Call for a quote | Call for a quote |
| Full Oven Cleaning | Call for a quote | Call for a quote |
| Single Oven Cleaning | Call for a quote | Call for a quote |
| Cooking Equipment Cleaning | Call for a quote | Call for a quote |
T&C and Minimum Charges apply. When we calculate the price, we take into consideration the area dimensions and the time of the appointment. To get a quote for your service, please call 0203 488 1016 or complete our quick booking form for a quote.