Call a Trade Specialised Office Cleaning Services
Spotless cleanliness is one of the most important elements making up the image of every organisation. We seek to contribute to this image, seeking to maintain the best position, through the quality of our specialised office cleaning services
Whether it's daily, weekly, or one off cleans, our team of experienced office cleaners can clean your office early in the morning or late in the evening 7 days a week, 24 hours a day. Working at times convenient for your business, we guarantee an efficient, reliable and quality office cleaning service. We offer a complete office cleaning service, all individually tailored to suit your specific requirements
You can either provide us with your own cleaning equipment and materials or we can use our own which will come at extra charge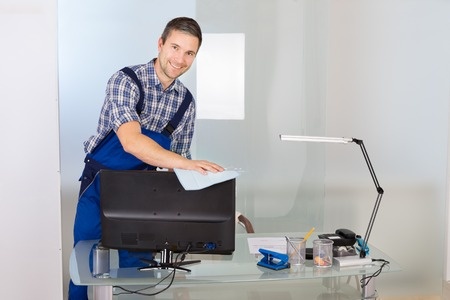 At Call a Trade we will arrange a meeting with you, discuss your needs and inspect your property.Detailed cleaning specification is prepared with daily, weekly, fortnight and monthly duties list.We specify time needed and number of cleaners to do the work.Proposal with office cleaning specification is send to you for verification and approval
After your acceptance the cleaners are trained to work in your property. We set regular inspection done by the site supervisor. Once a month we will send you an email for your feedback to make sure you are happy with the service provided and discuss any areas for improvement.
Unlike some of our competitors we don't tie you in to a contract. We are confident enough that once you use our services you won't look elsewhere. For great prices and discounts please give us a call on0203 488 1016 or fill out our online booking form for a free quote.
Call a Trade Specialised Office Cleaning Services
Office cleaning checklist includes the following
Entrance, Reception, and Communal areas
Stairways, Landings, and Corridors
Desktops and surfaces cleaned
Floors vacuumed or mopped
Waste baskets emptied
Kitchens cleaned
Toilets cleaned
Computers- Monitors and Keyboards cleaned
Daytime Onsite Cleaning Services
Daytime cleaning is gaining popularity for more and more organisations
Continuous cleaning allows you to maintain higher standards all day, with a smaller team of trained full-time staff
It means that cleaning 'emergencies' (such as spillages, dirtied toilets ) can be dealt with immediately to limit damage and maintain the working environment your staff and visitors to your premises require
You also save on security and energy costs since our cleaning staff are onsite during normal business hours
Feminine Hygiene Services
Every business must comply with the Environmental Protection Act 1990 when it comes to the safe disposal of waste including sanitary ones
This act requires businesses to dispose of their sanitary waste by using a licensed company
Call a Trade can provide an annual contract for the provision of your sanitary services tailored to your individual requirements, at a competitive rate
Contact us with the number of units (including nappy bins) you require plus the frequency of exchange and we will be happy to give you an unbeatable quote
Office Window Cleaning Services
From large corporate buildings to small offices a regular windows cleaning contract with our dedicated team leaves your windows sparkling allowing natural light to shine through
We use the reach & wash system. This involves using telescopic poles and purpose designed brushes to deliver pure, de-ionised water to heights of up to 65ft and improve cleaning rates by up to 40%
If your building is unsuitable for the reach & wash system, our window cleaning operatives are fully trained in the use of cherry-pickers and cradle work
Our window cleaning is fully insured.
Our Unbeatable Prices*
| Office Cleaning Types | excluding window cleaning | including window cleaning |
| --- | --- | --- |
| Office Cleaning Services | Call for a quote | Call for a quote |
| Daytime Cleaning Services | Call for a quote | Call for a quote |
| Feminine Hygiene Services | Call for a quote | Call for a quote |
| Window Cleaning Services | Call for a quote | Call for a quote |
T&C and Minimum Charges apply. When we calculate the price, we take into consideration the area dimensions and the time of the appointment. To get an estimate for your service, please call us on 0203 488 1016 or fill out our quick booking form for a free estimate.